21

Sep
How to get Quality Leads?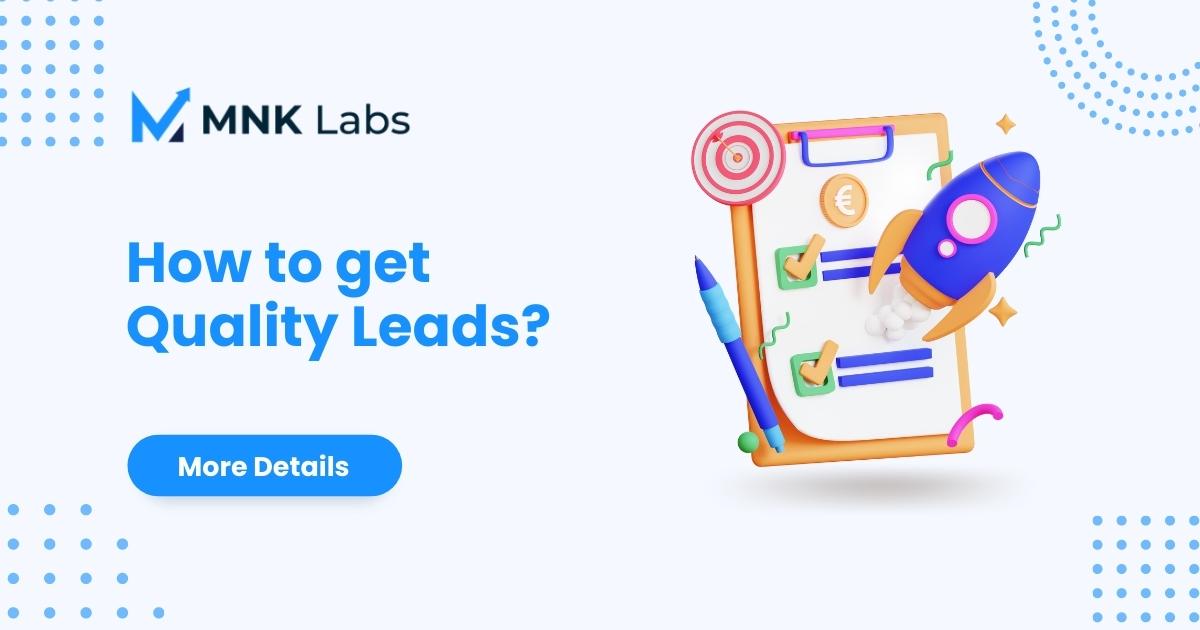 Many business owners and marketers don't know how to grow up their business sales and generating leads. That's way day by day their business fall down. The main problem is they think, just telling their customers to buy their product or take their service, and they will make a sale.
They don't know that, they are falling to move their customers from the awareness stage into the conversation stage.For getting enough sales leads from your consume aria, you have to understand human psychology.
People are not going to buy something from you unless you give something special to them. When your consumers understand you offer them something beneficial, then they will engage with your product or service.So, you have to provide valuable and informative content to attract them.
Let know your customers the better opportunity with your service or product and introduce yourself to them. You can reach your customers in many ways and explain them how you can help them by providing better service or products.
When you make a better business funnel and it apply in your customer community that will improve the quality of your business to business pay par click ans find the sales leads. Now I will share with you some incredible technique, so that you can generate qualified lead, higher ROI.
I can ensure you these techniques will reduce your financial cost and time wasting. These excellent sales generating leads techniques will offer law-cost marketing to your selective audience and also back very cost effective results.
Use these campaigns are most important part of the digital marketing criteria. And they will makes your brand building medium to your sales and generating leads.
Are an owner of a website and struggled with driving traffic? You should know the SEO techniques to rank your website in the SERP.
How Can You Generate More Potential Leads?
Generating leads is this opened a whole new chapter in digital marketing for business owners. But how can you generate more leads with effective sales funnel?
The general facts of generating leads are removing barriers and offering the best click through rate value which you can offer to your personalized consumers.
Quality lead generation has reduce your 45% business costs.
Business grow by 24% by lead generation.
Almost every business company use lead generation to grow up their business and build unbroken bond with potential customers.
Makes cost efficiency result through quality sales leads generate.
You may rebrand your business to get more potential leads. Here's the benefits of rebranding for your business.
Pick More Leads from Social Media
Social media platforms are good place to start building and generate lead's plan. Social media is a very effective approach for generating leads. Here you can look at your audience whatever they want.
Social media is much more than connect with your potential customers. Social media is highly relevant way to get quality leads software. You can do both type of marketing tactics such as organic and pain on social media platforms.
You can promote your business through groups or communities by sharing your contents. You may use sponsored or native ads in your business group or communities.
Social media marketing is the best tools to promote your business with a low budgets in the beginning. If you are unable to manage your social media messages then you can pick up a marketer.
The marketers have set goal in mind before they start marketing for your business. They measure your progress by set up their campaign right from the start.
So social media is the main artery of the lead generation and sales process industry. So it is the most effective advancement in technology to focus into business promotion.
There are many online lead and social media lead generation techniques. Now, I will share with you the most effective lead generation tactics that will increase your business 3x faster.
Service Related Facebook Groups:
Facebook Group is the most effective way to generation significant amount of leads. Facebook offers the marketers a specific lead ad format that basically promote forms.
Organic promotion in Facebook is free but there has paid promotion service to reach specific targeted customer. That means, If you promote your content and get 100K likes, you might easily reach 5K people easily convert into leads.
Facebook's business promotion leads are categorized into some factor that can market gated content, routine blog posts, and landing page for a Facebook Group. Facebook has two step promotion factor such as:
Off-page Promotion
It means promote your business and content on Facebook groups, your communications and other Facebook pages. This is the easiest and cost effective way for business promotion and generating leads from Facebook.
Paid Promotion
Most of the marketers prefer this way to generation leads in any business. Because this technique brings instant result. Pain advertising leads generation strategy work as the same way of social media promotion but there have some difference among them.
Because paid promotion strategy offers a specific purpose of business and makes a variety of ads. This can reach the targeted audience and drive more leads.
Facebook Ad Campaign: For Generating Leads
Facebook Ad Campaign allow to collect direct leads with targeted users right on this platform. The process of Facebook Ad campaign is simple.
If your main objectives are include market research, increasing conversation, and customer feedback Facebook ad campaign may be the right site solution for you.
Many marketers think that they know their audience, but the customer data analysis often confuse them. This lead generation strategy is the best way to learn about customers acquisition and their question exactly Facebook ads do best for you and your business.
Generate Quality Leads Using Facebook Chatbot
Facebook page chatbot act like a highly engaging top-funnel for marketing tactic. Chatbot can do quick survey in your Facebook page. You may automate drip campaigns to nurture your lead from the people who are connected with you.
Most effective tactics of chatbot is to collect new online lead generation info using forms in chat and it's support in sales team through integrated customer relationship management.
Page chatbot can simplify customer service and give business direction.
Need to Post Regularly in Facebook Page
Regular Facebook post is the most overlooked tactic that allowed to funneling your audiences. Facebook page posts are the best way to convert traffic into online generating leads at zero cost.
You can grow your organic follower and driving more leads to your Facebook business landing page by posting engaged posts and contents.
LinkedIn Sales Navigator for Lead Generation
Inbound marketing is mostly effective for every business. LinkedIn sales navigation running ads and marketing sales calls work instantly to grow up quality lead.
Inbound marketing drives more leads then traditional marketing tactics into marketing funnel.Using LinkedIn sales navigator you can show your experience as a thought business leader.
You may share the valuable information about your product and the most important thing is your every kind of publish will see professional people. So the quality lead gather from here is very easy.
Generate Leads on Instagram Ads
Instagram is in the early stage of generating leads tactics. Getting tons of reaction on photo,post, and links in Instagram is very cool.
Taking the time response from people by share photos that you are representing.Instagram does not cater to marketers directly like Facebook or Twitter but more similar like as Printerest.
Use that's why you may get a huge lead from this platform with a lot of opportunity.
Get Connect with Forum & Engage More Potential Customers
Forums or communities allow people to ask question. So you can connect with the customers who are asking about your product in forums. People ask in forums for technical problems, look information on business.
If you answer their question this creates great opportunity for your business to reach out with you'll need products and services.When you resolve their problems that may have happened lead.
If you share your thoughts and ideas in several forums and that will create communication with your customer. You can share your plan by arranging events or workshop, that will build and strengthen customer relationship with you.
Write Quality Content to Generating Leads
Creative valuable content marketing is more effective for business lead. Every content writer know that diving more leads with content is a clear strategy to generate quality leads.
So you have to post creative and engaging content on a regular basis. When your content is interactive it will convert your audience into customer.
Creative content can makes engage your customers and capture and interest of your audiences and it instead lead to you. Some content creation strategies are:
Indicate your target audience.
You have to know your audience interests.
Identify the right content.
Select the channel to share your content with target audience.
Create high value and creative content that can engage your audience into customer.
Search Engine Optimization
SEO is used in different purposes including lead generation. Lead generation through Search Engine Optimization is notoriously inexpensive from other tactics.
But the strategy of SEO lead generation not easy way.Use this strategy and it gives high conversion rate into business lead by the result depends on some critical strategies from your website.
Use of SEO not only attract your audiences but also it can convert your business leads into sales team.
Twitter Sales Marketing
Twitter is the another lead generation popular platform. Twitter has two ways promotion strategy like Tweets/Retweets & Paid Promotion.
This lead catching piece on Twitter campaigns are run as a sweepstakes or contest that reach in relevant and targeted lead.Business marketers can post on Twitter and it hit the sense to the audiences.
You have no idea how to even get started with getting or tracking quality leads through Twitter.Twitter Cards: Cards is the most effective lead generation tactics on Twitter.
Eye-catching images and the statistics of customer acquisition reach more lead generation.Brand Mentions: Do you notice what people are saying in Twitter?
If you don't know about this, you might miss out your generate leads easily. So makes your business mention and track the brand by hashtags.
Event Creation: Events re the creative ways to generate leads from Twitter. Create a great conversation with your audiences by "Ask Me Anything" or " Product Review" event. Use call-to-action for each campaign for get their notice to you.
Highlight Your Social Proof
Social proof is the distinctive element with a flawless customer conversion. You can highlight the reviews, video based customer stories, testimonials and all of them provide the great opportunity to influence the visitor.
Social proof striking a balance between regular customer expectation and you will get their impression.
Arrange an Educational Webinar
For B2B lead generation webinar is a great tool. Webinar is act as the middle platform for sharing and retaining knowledge. You can deliver a database with your audience directly filled generate leads to reach your target audience better. Effective webinar lead generation tips are:
Educational webinar
Problem solving webinar
Case studies
Product demo webinar
Create Perfect Business Identity to Get Trust
You brand identity is the best way to get more quality lead generation. Every small businesses, agencies, and companies gain a competitive advantage by their brand identity.
If you makes your brand focus on prospects expectations, then you must get more clicks on your service or product.
You have to produce and supply the best product around, with successful business to business lead generation. And this will build up your identity and trust.
Need to Ask Referral from Happy Client
Testimonials from your clients are traditionally used in sales progress and it helps to create the trust of prospect. What your clients say it depends on your service or product quality.
If you give them high quality service and support, then it makes the opportunity to use your customers testimonials to generate new inquires and generate leads.
UpWork (Marketplace) Leads
UpWork is the most famous and crow freelance market place. You can generate more leads from your UpWork profile. You can applying to jobs and create your profile related clients are looking for you.
You job success rate is also a great way to convert your audiences into clients. When you're maintain your profile as a top-rated status then you'll need a great chance to gain inbound reward from here.
That's an ideal place to gather quality and generating leads.
Email Listing to Reach Target Audience
Email marketing remains one of the best lead generation tactics. Email is the way for small businesses owners and the best practice topic to reach and engage target audience.
To marketing any kind of services and products form email marketing is the best practice for getting the word out about business.
Marketing specialist prefer great way to communicate with customer through lead generation email as opposed to someones marketing channels.
Email marketing gives your customer actual enjoy because you can easily communicate with your target audience through email and a reliable channel.Email marketing tactics:-
Create a email list whom you want to reach:
You have to indicate and identify your target audience contact information whom you want to provide your service or product. Send them your product or service category email address list, educate and engage them about your products and services.
Segment email list by buyer response:
You may use different types of email subscription or attributes to your target audience, and segment your specific customer response from their contact information, name and email address.
Personalize your communication:
You have to send click through emails that the recipients likely engage with you to specific interest. This will create the chance that visitors will subscribe your channel.
Follow-up email:
You have to follow-up your emails regularly. Every business holder wants to get more qualified lead and generate sales lead in his/her business. Someone doesn't have leads in their business.
Another one has more leads, but they don't utilize them properly as a customer conversion. So you may discuss with us about how to get more quality leads and how to avail oneself of them properly to convert your generating leads into customers.