22

Sep
How to Get Traffic on My Site (SEO Factors)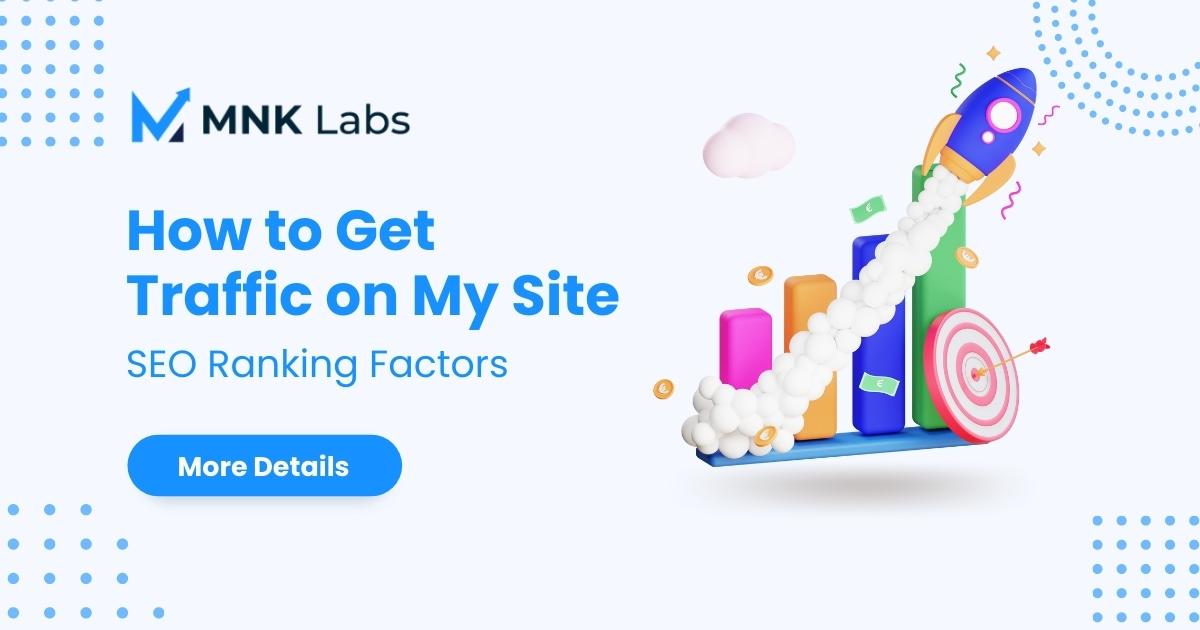 If you are an owner of a website and struggled with driving traffic to it. You should know the SEO techniques to rank your website in the SERP.
Website traffic is an important factor and indicator of the increase in business growth. Do you know that who many people search in Google every day?
There are 3.5 Billion searchers performed on Google daily basis. Did it amazed you, but don't know how to increase website traffic?Okay, Listen! Most of the bussiness owners don't know how to get website trafficand the increase website traffic fast.
I assume you have an awesome website but you don't get much organic traffic whatever you deserve or want and how to get website traffic easily.Though there are billions of searchers are wandering around Google search engine.
I'm pretty sure, you are in the right place to pick your knowledge about SEO techniques and Google ranking factors above the supreme. Let's drive into deep, how you could achieve this.
Do you know why small business failure at the early stage? Keep watching to know the reasons of their failure.
How Organic Traffic Could Help Your Business?
First of all, you have to know why organic traffic to your website is important for your business. Organic traffic to your website can help you in many ways:
It ensures you how well your marketing is working.
Gather information and insights about your audience to make them clients.
You can generate more leads, more customers, and increase the conversion rate in your business from traffic to your site and the ranked website.
You have to learn about driving more traffic to your website the right way and get this facility by the focus on getting quality traffic. In this post, I'll cover free ways to drive traffic to your website that impacts your business bottom line and get traffic to your website free.
It has become the foremost need of every website, and all of the ways are demanding and burgeoning for all. Even 57% of the business to business marketers have agreed that SEO techniques generates more traffic and leads in comparison to any other email address and email marketing solution and approach.
Do you know why SEO is required for websites? Have you ever thought about how many blogs are published daily on the internet? That is around 2 million blogs and posts are published on the internet daily but 90.95% of pages are invisible in Google. So make sure what is SEO techniques and how it works from here.
Do you want to be in that invisible 91%? If don't then, you have to hire the most creative and expert SEO specialist just now or your business will fall in a nutshell.
Do you need more leads in your business? Keep reading to know how to get quality leads.
Why Absolutely You Needs to Apply SEO Techniques in Your Business?
The majority of online traffic is driven by the search engine. While paid SEO, social media, paid to advertise, and other online platforms can give you traffic but more leads are lay on organic search traffic.
If you can place your website in SERP by organic search results, then you will get the most trust from the visitors.
More Effective to Grow Trust in Consumer Mind:
Organic search results cover more digital and gives real consumer, appear more credible to savvy searchers, and receive way more clicks than paid advertisements.
More Leads then Paid Advertisement:
A survey said that of all USA searches only 2.8% of people click on paid advertisements. So The main opportunity laid on organic search results.
Customer Conversion Rate:
Organic SEO techniques has 20X more traffic opportunities than Pay Per Click (PPC). And the customer conversion rate is too high.
Cost-Effective:
SEO is free of cost when you know all of the tactics. But don't worry, if you don't know this. There are huge Expert Agencies and their creative SEO specialist team is waiting for you. Just you have to find out them knowingly from the marketplace.
In general, the results of SEO techniques are just unquestionable. I will share top SEO traffic factors that increase and make it more effective traffic on your website in the long run. And it depends on your effort in SEO techniques and search engines credibility.
Domain Ranking Issue/Factor
Domain Age: in 2016 experts thought that domain age is the most important ranking factor. Now it has become less important but the old domain can increase your domain authority.
Domain History: Exact Match Domains may still give you a slight edge for boosting. But if your EMD happens to be a low-quality site, then it would vulnerable to rank.
Country TLD Extension: Having a Country Code Top Level Domain ( .ca, .uk, .as) can help your site in particular country.
Penalized WhoIs Owner: If Google identifies a particular person as a spammer it makes sense then Google will block your domain. So you have to buy a domain with a good history.
On-page Ranking Factor
Keyword in Title Tag:
Although keyword research not as important as it once was, your title tag remains an important on-page SEO signal and it can drive traffic to your website and make sure to increase website traffic.
Title Tag Starts with Keyword:
Title tag starts with a targeted keyword tent perform better than a title tag without any targeted keyword research. This thought is according to Moz.
Keyword Appears in H1 Tag:
H1 (second tag) reflects your full content and Google uses your H1 tag as a secondary relevancy ranking signal. So your targeted keyword must place in the H1 tag.
Keyword Research in H2, H3 Tags:
You should write your content full of proper subheadings in H2, H3, or H4 format and you should try to keep the keyword in these subheadings. Googler John Mueller states: 
"These heading tags in HTML help us to understand the structure of the page."
Content-Length:
45% is the difference in new content length between Top-3 between 10th position. Great content with more words can cover a wider breadth and give details about your topic so it's preferable in the algorithm compared to shorter, superficial articles.
Content Accuracy:
Create content accuracy is a must to rank a high position in the SERP. You know the most reliable and correct and great content stays on the first page because Google aims to rank accurate results for every query.
Table of Contents:
It is a great way to makes sense to Google and your reader about your content. A linked table of contents can help Google better understand your page's content and it gives you results.
Keyword Stuffing:
Do you know 18% of domains ranking for high-volume keywords don't have the keyword in the body? How is this possible! Google's algorithm knows what is the main theme of your content. So over-optimized content with keyword brings penalty from the SERP.
Keyword Density:
It is a wrong idea if you thought more keywords bring more traffic. Because Google may use it to determine the topic of a webpage. But going overboard can hurt you.
Keyword in Domain:
The name of your domain could not boost your website but it acts as a relevancy signal.
Latent Semantic Indexing Keywords in Content(LSI):
You might use more long-tail keywords in your content. These SEO techniques helps search engines extract meaning from words that you have and long-tail keywords and LSI probably also acts as a content quality signal.
Duplicate Content:
Duplicate or overhead content acts as a poison in your website. If you publish duplicate content in your site will be penalized from SERP and it is a must because it violates Google Webmaster guideline.
Image Optimization:
Your content images send search engines important relevancy signals through their alt text, file name, title, caption, and description. So you have to use a unique image in your content. Keep the keyword in your image alt text and file name. You will get extra benefits in the image search.
Site Architecture
A website with clean, clear, and well-coded architecture is easy to crawl and index by Google algorithm. Complex site architecture makes hamper to crawling or indexing properly.
Google's John Mueller said that the importance of "a meaningful site architecture as a powerful way to tell Google what your site is about". There are many site architecture model approved by Google.
Theme Pyramids is the best site architecture and also the context of URLs sounds like hierarchical site architecture (Theme Pyramid) and how it communicates semantic relatedness. One of the best ways to increase traffic to your website.
Outbound Link As a Ranking Factor
Many SEOs think that linking out to authority sites helps send trust signals to Google. And this is backed up by a recent industry study.Hillop Algorithm is responsible for looking after outbound link and it ensures the content of the pages you link to as a relevancy signal. Also, Google gets the relevancy with your content topic.
Too Many Outbound Links: Too many outbound links distracts Google to understand your content's main topic. Straight from the aforementioned Quality rater document:
"Some pages have way, way too many links, obscuring the page and distracting from the Main Content."
Website Loading Speed
Page speed has been a ranking factor since 2010 when it affected 1% of desktop search queries.That changed in 2018 when Google extended the ranking factor to mobile searches.
Google knows people want to get their answer as fast as possible, then Google announced that speed update would make load speed a ranking factor. But this is not an easy task for all. If you can do this then well done. But if you won't apply these SEO techniques in website speed optimization then you should hire an expert right now to boost your rank.
This is one of the best ways to increase traffic to your website.Google always thinks about user satisfaction. The slowest experience to users plays a vital impact on the ranking signal.
If your website is not fast enough then it creates a negative impact on users. Then it takes infinity times to rank your website on the first page of any search engines.
Give Crawlability to Search Engine
Website crawlability is such an important SEO techniques and ranking factors. Any kind of search engines can't rank your website if they can't find it after the crawl. Because crawlability allows the search engine to scan your website. When a Google bot crawls your website but could not found anything then how your website get the rank?
To give access to your website you have to submit a sitemap to the search engines.
Set up Google Search Console and review the pages Google analytics crawled on your website.
You have to use robots.txt properly to access your website.
If any wrong steps happened then your site will not able to get the rank.
HTTPS A Powerful Ranking Signal
HTTPS improves security for visitors by encrypting data between browser and server. A Secure Sockets Layer (SSL) certificate provider your website's URL with the HyperText Transfer Protocol Secure (HTTPS) designation.
Google announced that HTTPS is a very powerful ranking signal because it plays a significant part in building trust and gives security users.Google webmasters adopting HTTPS also known as HTTP over TLS, or Transport Layer Security on their website, which is encouraging.
Mobile-Friendly Website
Later, in July 2019, when Google moved to mobile-first indexing. They made it a ranking factor for desktop searches too. Because the majority of users now access Google search with their mobile phone.
Google said around 52% of searchers are searching on Google through mobile phones. And the rate is increasing now. For this reason, Google moves to mobile-first indexing. That means Google predominantly uses the mobile version of the content for indexing and ranking. Google analytics crawls and indexes pages primarily with the smartphone agents first.
Most Importantly EAT Concept
The amount of expertise, authoritativeness, and trustworthiness (E-A-T) is the top-ranking factor nowadays. Goggle said that EAT is very important to achieve the first rank in the SERP.
Google always wants to promote web content written by legit experts on that topic. The Keys concept of EAT is to understanding Google's definition of quality for web pages & answer questions by blog post content.
Google says quality evaluators need to use their judgment to determine whether a page qualifies as EAT content.
Now, it is one factor in determining blog, post, and content Quality and these SEO techniques determine your website value.If you do not create your blog, post, and content without following EAT, your website will not capable to rant on the first page of the search engines and don't forget this is the way to get started to increase your content strategy.
Site Authority
If your first goal of SEO is creating your website to get to position 1st on the first search engine results page (SERP). You have to increase your website's authority. This SEO techniques make up one of the ranking factors determining where your website position up on search result pages (SERPs).
Domain authority involves a scale and scores that rank from first to the last page in the SERP. Higher scores highlight a website's ability to rank better. Don't forget to share high quality social media content or blog post, because blog posts increase traffic to your site.
Internal Linking Factor
The number of internal links to a page with a relevant keyword or article indicates its importance that relative to other pages on the site (more internal links=more important). Internal Links are hyperlinks that point at the same domain as the domain that the link exists on. It creates a good site structure and Google likes to rank a well internal linked website.
A well put-together site architecture with well planned internal link back website helps Google thematically organize your content strategy. It can also help Googlebot access and index all of your site's pages link back to drive search traffic to your site.
Backlink Ranking Factors
Linking Domain Age: Backlink is the most powerful element to grow up rank in the SERP. And also backlinks from aged domains may be more powerful than new domains. So you have to keep in mind how the age of your referral domain age. Also, you should analyze the domain history.
Backlink Anchor Text: Google's original algorithm is noted in their description of webmaster guideline: Obviously, anchor text is most important to make the impression to click.
You should try to create keyword-rich anchor text and it still sends to the Google crawler a strong relevancy signal. But over-optimized anchor text is harmful to your website health and it workes as a webspam signal.
Guest Posting: Although links from guest posting still pass value, guest posts are likely as powerful as true editorial links and guest posts are also an authority figure within your market.
But Irrelevant and "large-scale" guest posting can get your site into trouble bu guest post. If the SEO techniques could not found any relevancy with your guest posts then your site may get penalty by Google. So sometimes guest post create problem to share your content.
Contextual Links: Links formatted with contextual links play important rules into embedding inside a page's content which is considered more powerful than links on an empty page or found elsewhere on the page.
Affiliate Links: Affiliate links are very harmful to site health. Sometimes they probably won't hurt your rankings if you create quality links. But if you have too many, Google's algorithm may pay closer attention to other quality signals to make sure you're not a "thin affiliate site".
Broken Links: Having too many broken links on a page is very harmful to a website. If you use a broken link in your content the Google algorithm makes the sense that is a sign of a neglected or abandoned site. The Google Rater Guidelines Document uses broken links as spam.
User Interface Ranking Factors
RankBrain: RankBrain is Google's AI algorithm. Google RankBrain's main purpose is to measure how users interact with the search result (and rank the results accordingly). So you have to publish clear and informative content on your website.
If RankBrain finds any kind of content violation, spammy and usefulness to share your content in your site then you should ready to get a penalty from Google.
Bounce Rate: The bounce rate is one of the most issues for ranking. Not everyone in SEO techniques agree on bounce rate matters, but it may be a way of Google to use their users as quality testers. After all, you'll need the pages with a high bounce rate probably aren't a great result for that keyword.
Pogosticking: "Pogosticking" is a special type of bounce. In this case, you'll need the user clicks on other search results in an attempt to find the answer to their query.
Bad Effect of SEO Over-optimization
SEO over-optimizing always leads to bad UX. A website is over-optimized if the techniques aimed at ranking high in the search engines harmed the quality of the site, and don't give rank those types of websites.
Over-optimizing would happen in many ways such as keyword stuffing, keyword density, create a backlink on a large scale. And whenever Google algorithm found this issue, then immediately block the site. How over-optimizing happen with your website?
Keyword Stuffing: Of course, using your keyword several times will help with your ranking. Google algorithm can understand what your post is about and rank it accordingly to give what you deserve.
Over-optimized text, using a large number of the same keyword, putting a keyword in every (other) sentence, subheadings, and also in every passage create with keyword stuffing. When it happens on your website, then you must get a penalty.
Consequences of over-optimization: Google Panda update aimed at all those sites with over-optimized content. When Google understands you are taking the optimization of your content a little bit too far, you are thus risking a Panda penalty.
Over-optimizing creates hard text and not fun to read if you stuffed it with long-tail keywords, less social media attention. When Panda hits you, you'll notice a sudden drop in your rankings.
More Focus on More Link Building: Many link building strategies look suspicious and may also make your site susceptible to a Google penalty.
A link that's no longer functional. And it is very harmful to ranking. When you click the anchor text, it takes you to a 404 page or an invalid page.
So more linking creates a big problem in your site, and you will get a penalty. If your visitors get annoyed, they will be less inclined to buy something or to return to your website.
There might be a question from the business owners' side, that you are not able to do this work for its critical factors. Most of the business owners are not familiar with the effects of the SEO, that's why they have recourse to digital marketers or SEO techniques. SEO specialist generates their strategy for this service.
Final ThoughtIn such a huge competition it is complex to rank on the first page of SERP. SO you should mark the existence of your websites post. There might be possibilities that your published blog is lost somewhere without being noticed by your audience.
I hope everyone knows very well what a role is played by your blog posts in deciding the ranking of your website. SEO service of your website is getting the notice for ranking.
But you have to mind that SEO techniques are not an easy game to win. The SEO landscape is changing continuously because Google is continuously changing its algorithm. So SEO strategies that worked some time back might fail any time.