22

Sep
Why Should You Rebrand Your Business in 2022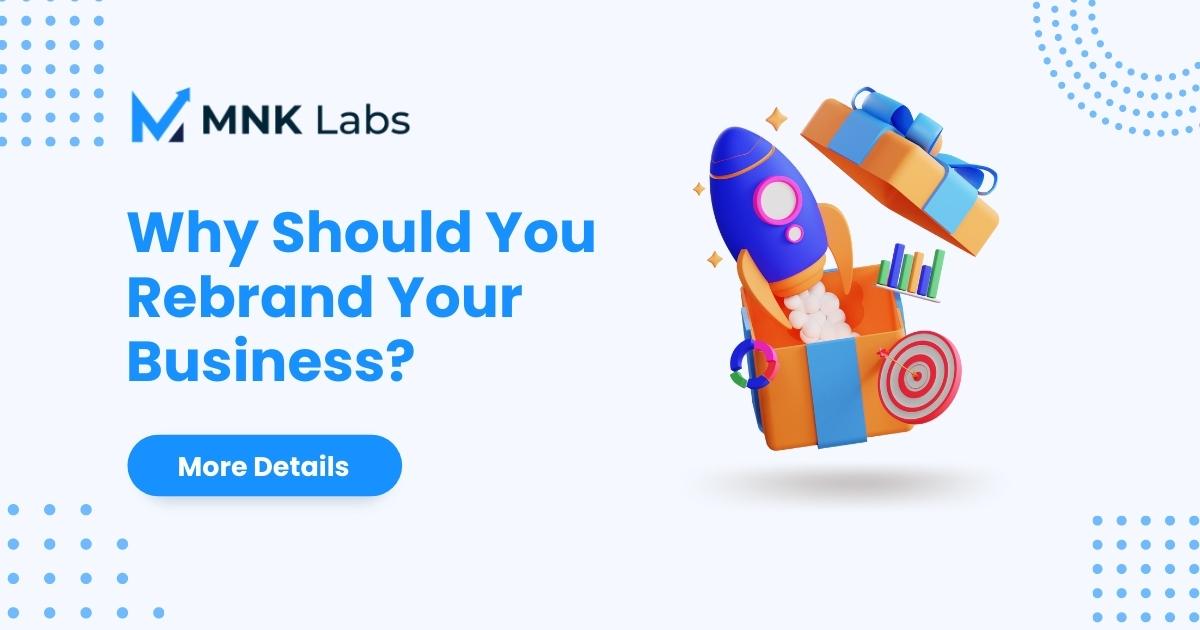 Every type of business should rebranding its existing brand identity within a certain time period. There are many reasons to redesign your business. You might shift with a new look, this can engage you with new customers and markets or simply refreshing a tried from the old brand.
You have to hire an expert team that will make a great brand guideline and that better reflects your business benefits of rebranding. Otherwise, it's worth the upfront investment, and your effort could not bring any advantage to your business. Stay connected to know how to rebrand a company.
Do you know the brand color and design impact on business growth? Consider this. Visme observes, "90% of all information transmitted to our brains is visual. But we remember 80 percent of what we see and only 20 percent of what we read." If your graphical view is poor then you would not able to convert your consumers.
If you want to see a dramatic change with responding to new circumstances with more pertinent than ever, then makes rebrand your business. Because rebranding is an essential part of any pivot.
When the new business owners start their business, they don't pay much attention to branding beyond the business. Most of them believe that brand identity is nothing more than that business's logo and name. Get the full strategy of how to rebrand a company here.
But afterward, this issue stops the road of business growth and creates a big hamper in conversion. The brand identity reflects the whole reputation of a company. So successful rebranding is much more than a business name and logo.
Have you own a great business but you are stuck in a rut with your branding? But don't know how to rebrand your business? It's feeling like the name, logo, colors, and website don't really fit the services you're providing or the products you're selling with the targeted audiences?
If so, it could be time for a redesign you brand — two words that often spark fear in any business owner, you should redesign your graphical look and also the outlook of your website.
Do you know why small business failure at the early stage? Here's the most reliable reasons for small business failure.
What Is Rebranding?
What is a rebrand and what does rebranding mean? A business rebrand definition means overhauling the entire business brand identity which previously created. It held on entire elements such as brand name, logo, website outlook, and website copy of the business need to be revised.
The company is a marketing strategy that involves developing a new company symbol, new company name font, company logo, and the company website user interface. Rebranding define the related to visual assets like company marketing strategy and marketing materials.
When rebranding strategy has brand overhaul it has happened with a business then it creates a new and different brand identity in the minds of clients, customers, consumers, investors, competitors, prospects, other stakeholders, and also employees.
When Should a Company Consider Rebranding?
As I mentioned earlier, a brand is much more than a company outlook, name, and logo. But the key ambassadors of business is the rebrand a company name and logo. So it's most important to develop a strong company name and logo to highlight your brand identity and generate quality leads.
You should rebrand to better differentiate from the competition
When your business outgrows the original mission
You should rebrand when your business evolves
To get back market reposition
If you want to explore new markets or locations
Expand business with new mission and vision
To overcome the public relations crisis
So you have to assess carefully whether a rebrand is right for you and whether this is the pick time to rebrand your business strategy. The benefits of rebranding can put new energy into your brand strategy to the public and distinguishes the business in the mind of customers.
Why Rebranding is a Good Idea for Your Current Business?
Rebranding can work wonders for any business that is struggling to modernize or even escape a lackluster reputation and differentiate themselves from their competition.
It is a complicated thing that will introduce you to some extra risks and costs. But when you make a meaningful change then it will build a new brand identity.
It can increase the value of visible elements of your business. Here are some benefits of rebranding and issues you need to know rebrand company for brand marketing:
1: To Communicate with Consumers What you Provide
Does it clear what your business actually does? When your business name does not immediately communicate anything relevant about your service or product then change your business or company name.
It is a major problem to expand more leads and customer conversion. Your audience needs to easily see how you are appropriate for them. If they don't get this, then they walk on by without a second glance.
One example of this can be seen in the ubiquitous Uber rebranded early in 2016. They realized their market was growing globally and they expand beyond their new original purpose of brand marketing.
It was a taxi service provider and expanded to delivering goods and foods after the rebrand. Companies need rebranding because it increases business growth 10x faster.
2: Aligned your Brand with Actions
Your rebranding process consists of more than your business name, logo, and brand colors. So the customers' experience and perceptions are told you how they need to appreciate your product or service.
So company rebrand is most important to develop a new brand identity that authentically aligns with the reality of your business. So integrate feedback from their experiences into your new brand, new logo, new name, and new market.
Verizon is a rebranding example of a once- they observed their logo look outdated. Then they refresh their logo and brand message which showcases Verizon's. The old Verizon logo comprised an italicized font. And after redesign, their Business growth increases 3x faster.
3: Outgrow Your Companies Original Mission
If your business started off personalized items but now you want to add some customized items. But your existing product does not match with the new product. So customers probably won't know that, and it creates an identity crisis.
By rebranding business, you can easily solve this problem. When you needs to rebrand your business then the developers and designers make a combined solution for your business which represents your both products.
4: It will Overcome your Poor Reputation
A poor reputation can be an anchor dragging your business down. Your business revenue will fall down, if any scandal, financial struggles, or questionable business policy happens with your business or company.
So rebranding process can create a new public face that represents the future of your business. Your new brand, new logo, and new name needs to appearance will serve as a visual signifies that you're changing directions.
5: If you Focus on the Wrong Audiences
Sometimes there's a misunderstanding of the appropriate customer and audiences. Your business will suffer if your brand doesn't resonate rights reserved with your appropriate audience.
So relevant audience is most important to get rid of struggle. So you have to keep an open mind and research your true audience who really need your company product or service.
6: You Should Rebrand to give new life to Outdated Branding
If your business has been around for a long time, your color palette is dragging your brand down and it makes look outdated. So you need to evolve your company rebranding materials immediately.
Modernizing your brand color and outlook materials that keep up with rapidly shifting design and technology. This rebranding strategies step will turn your business around and accelerating make growth marketing value.
What's the Benefits of Rebranding for you Business Growth?
Want to rebrand your business or company? A rebrand can bring huge benefits of rebranding and success or it could fail miserably for your mistake. The best way to ensure success is to plan your exact route of attack. If you need not make thought about your business goals and strategies about how to achieve them gradually.
When you thought about your company goals and work with your great strategy then the sales leads must be increased gradually. When you considered why you are doing this, you could find yourself in a tussle. How the benefits of rebranding increase your business growth? Keep reading on how is this possible:
Audience Changing: When 75% of consumers don't want to keep maintain a relationship with you then find the other 25% consumer. 43% of millennials indicate they use their parent's favorite brands but not the same products. So keep upgrade yourself.
Give Your Brand Story: Find out what makes your product resonate with your audience. Though Subway's sales in the US are estimated to have been $3 Billion. Then, they make sure heard a story about Jared Fogle and they rebrand their business. Since needs Jared? They have made over $11 Billion.
Revitalize to Broaden Your Audience: Create buzz to reach new target demographics and make sure to create your new tricks. In 2010, Old Spice found out that 60% of men's body washes were purchased by women. The rebranding process can win the attention of the female audience. They get 300% website traffic and get 200% more sales and subscribers.
The Right Time for Website & Graphics Redesign Action is Needed
Make sure which is the right time to rebrand your website. But don't know how to rebrand a product website? Read on to see if any of the following issues occurs with you then immediately you need redesign your website:
Unable to Full fill Consumers Experience:
Do you think your website is unable to present and support your business right now? When your website not representing the products and services you offer, you should redesign your website whatever your customers want.
To Getting a New Direction:
If you want to add or change something like a product or service, it is the perfect time for a little refresh.
If Current Logo too Similar to your Competitor:
If you use template logo when you first started out but now your competitors use the same popping up, so it's time for a rebrand. Rebranding makes your business logo unique.
When your brand color does not fit for Website:
When all of your advertising on social media and your logo color is not representing you then make sure it creates a problem in fitness.The business industry evolving faster than ever before in social media.
Final Thought
Every business owners rights reserved and tries to go in next with a big shift. If your brand is perceived as inflexible or ill-equipped to survive in its make sure new landscape, then rebranding will likely fail.
So rebrand strategy can occur on a spectrum with new ideas and strategies. The current business plan and trends can connect you with your consumers that embrace incremental changes in your business growth.