05

Feb
Keap Max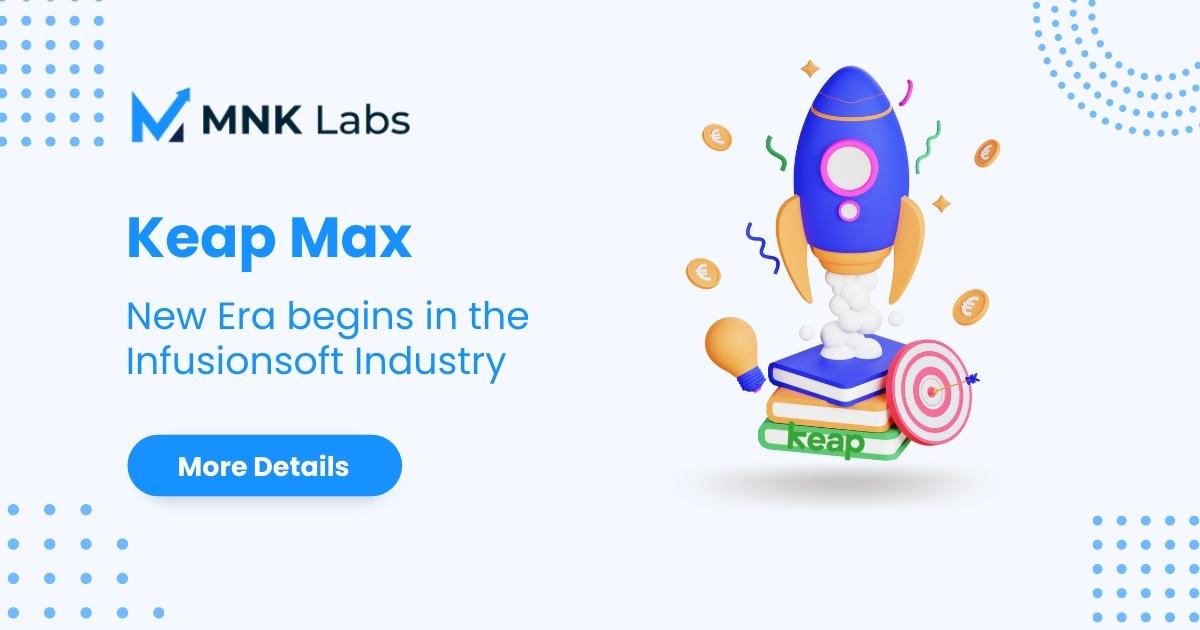 Automated CRM tools play a significant role for all businesses, especially for small businesses. Ideal CRM software makes it easy to manage more customers, putting less effort by helping you with contact management, Sales Pipeline, Lead Scoring, Checkout Forms, Company Records, email marketing, and many more.
You will see a bunch of CRM software available in the market, among them Keap (formerly Infusionsoft) is the number one CRM sales and marketing automation tool. It has renovated its product lines to bring a distinct user experience. Read the article to get more updates about the changes of Keap (formerly Infusionsoft).
New Era begins in the Infusionsoft Industry – Keap
In the CRM industry, a well-known name Infusionsoft is currently familiar as keap. After 18 years of business, in January 2019, the industry rebrands Infusionsoft as Keap without changing its main goal. And then they kept the previous brand name (Infusionsoft) alive by renaming it- Infusionsoft by Keap in their product line.
But it was a little bit confusing for users and does not unify their brand, product line, and community. So they decide to bring a new name in their product line which is Max. Under Max, there are two versions- Max and Max Classic. Keap Max is a totally new thing (You can learn more about it below). And Keap Max Classic is just nothing other than a new name for Infusionsoft.
What is the purpose behind this change?
They wanted to have a name that will match their mission which is simplifying business growth for small businesses. Keap is the perfect automated tool for small businesses that offer CRM, sales, and marketing automation services. It saves a lot of time and brings more leads. In their opinion, keap represents the grit and passion which every small business embrace.
Keap Max
Keap Max is the most powerful and usable product of Keap's product line as it combines the ease of use interface of Keap and many of the benefits of Max Classic (formerly Infusionsoft).
Max's purpose is to serve the small business owners, help them grow their business with little activity. This advanced automation tool helps them automatically capture more leads with built-in landing pages and customizable forms.
Which cost less time and effort. They can easily convert leads with custom marketing campaigns. Very soon users can have automated massaging options that can help generate more leads. Enables automated follow-ups so that leads move through your pipeline. Soon there will be Advance sales funnel to track and convert leads.
How can a customer switch to Keap Max?
After seeing a new option, who does not want to try it? Everyone desires to taste a new item. Maybe Max Classic (formerly Infusionsoft) users also curious to try it. Trying Keap max is super easy.
All you have to do is click the toggle button, which is on the top of the Infusionsoft app. Then you can toggle back to max classic any time without losing your data. But it can affect all users in your app.
You have finished your trial and want to switch. Then you need to contact your CSM. They will help you move from Keap Max Classic to keap Max with no additional cost. But if Keap pro users want to shift to Keap Max, they have to make a payment.
Consequences of Switching to Keap Max
Sometimes, switching to something new can be a little problematic. If you choose to move in Keap max, you may have to face a problem in data migration. And maybe you will lose a few of your data.
Although Max includes many useful features of Keap Max Classic (formerly Infusionsoft) and gives you the freedom to transfer your data smoothly, it has removed some niche features of Keap Max Classic (formerly Infusionsoft), and you need to re-enter them.
Keap has declared which area of your data will remain safe and where you have to re-enter. Let's see:
Your data will be transferred for the following sections:
Contact Record
Company Record
Tasks
Notes
Lists and saved searches
Tags
Custom fields
Emails
Campaigns
Invoices
Order records
These are the area where you have the chance of losing your precious data:
Contact record
Contact type
Sent email history
Custom fields
SSN field
Categories with subcategories
Order records
Tax and discounts
Activity Feed
My Day
Opportunity Records
Sales Pipeline stages
Appointments
Niche campaign goals and sequences*
Keap Max Classic
After 20 years In February 2021 Infusionsoft change its name to Keap Max Classic. In Max Classic, you will notice every feature and function remain unchanged. The only change you will see is simply the name and logo.
It is the most powerful CRM solution for small businesses. It offers advanced sales and marketing automation including fully customizable campaigns and app integration.
It assists users to increase their lead conversion rate. Provide user powerful segmentation which helps to deliver the right messages to the right persons. The automated sales process automatically converts leads into sales. Let users maximize their ROI.
Features: Keap Max VS Keap Max Classic
Keap Max comprises all characteristics of Keap Pro and Keap Max Classic. It involves some brand new properties like checkout forms, analytics, lead scoring, and some custom fields.
It also embraces the additional keap features appointments, keap mobile app, dedicated business line, SMS messaging, easy automation, calendar sync (Google / Outlook), checkout forms, google reviews, which are currently missing in Max Classic.
But Max Classic has some features that are missing in Max. Such as –
My Day
Opportunity Records
Affiliate referral tracking
Shopping cart
Niche campaign goals and sequences*
Which will be beneficial for you- Max or Max Classic?
A new item means new opinions, impact, questions, experiences. But most of us strongly focus on how much the new stuff is going to be profitable for us. Same here, most of the Max Classic (formerly Infusionsoft) users or the people who are new to keap may expect the answer to this question- Which will be beneficial for them?
All I can say- both can be helpful for any small business owner. But it also depends on the user's need.
For people who are excited about trying new things, this is a likable opportunity. Max offers easy-to-use options, its user interface is super simple, can make you feel a facile automation environment.
It also provides online selling services that also contain payment and checkout forms. If you are looking for an easygoing automation service with online selling helps, undoubtfully you can choose Keap Max.
Max also carries a few of the powers and features of Keap Max Classic (formerly Infusionsoft), so for customers who want to try the new items and can't leave the old Infusionsoft, engaging to Keap Max can be a beneficial decision for them.
But few features are not available on Keap Max. Such as- My Day, opportunity Records, affiliate referral tracking, shopping cart, niche campaign goals, and sequences. So the users who are fond of these features and possibly going to miss them should continue on Keap Max Classic.
Bottom Line
As a small business owner, you must take advantage of quality CRM software. There is no other simple way available for you to build a more comfortable relation with customers. It takes a magnificent part to grow your business faster. In my opinion, Keap Max is a phenomenal CRM solution for you.
Although Keap Max Classic includes various marvelous features but the other hand, Max holds probably all features of Max Classic with some extra own functionality. Saying this I am not trying to confuse you or force you to use only Max, you can try both of them and decide your own.